Welcome everybody! With a little emotion due to the start of a new adventure, we present ourselves: we are Gianni and Tony, two Italian guys that created the ImmotionAR team (sometimes shortened in iAR).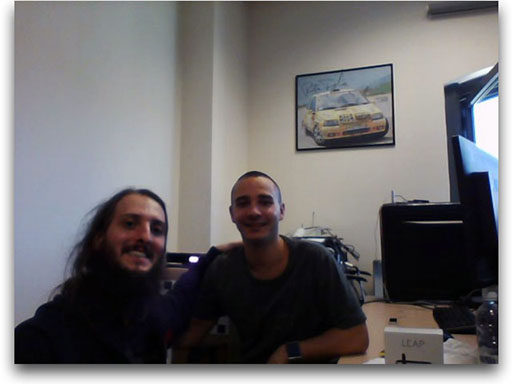 Our dream is to create virtual reality immersive experiences that are able to make our users feel any kind of exciting and amazing sensations. We want to achieve this using the latest cutting-edge technologies:
Virtual Reality glasses (such as Oculus Rift, Samsung GearVR, Google Cardboard)
Sensors like Microsoft Kinect, Leap Motion, Intel RealSense, etc...
Now it's been a while that we are experimenting with all these technologies (with the generous help from Beps Engineering) and now we believe that time has come to present our work to the world. Our idea is to start with little projects, and then, with a lot of work and with your precious help, to make something big.
This is our first step in this long and insidious journey, and we hope that it will bring us to gaze at the sky from the top of a mountain of satisfactions.
In this blog you will mainly find all the news about our projects and products we are developing, but we'll give also an insider and personal view, keeping you informed about:
Difficulties and problems we're facing

Hardware and software reviews

Technology news from the world

Personal opinions and comments

Contest, Prizes, Community events
We will try to keep this blog up to date by writing periodically… it is not easy, but we will try. Please, follow us by subscribing to our RSS feed and to our newsletter and let us know whatever you think about our work.
Wish us Good Luck…!